Ashleigh Hughes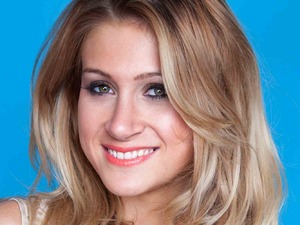 This 20-year-old bubbly, energetic, potty-mouthed Essex girl says she wants to win Big Brother for the fame even if she is loved or hated, she doesn't care which.
The retail sales supervisor/part time barmaid believes that, "money does make you happy. It sorts out everything" but says that she is not a stereotypical Essex girl, "Yes I wear fake things when I go out but I'm not like that
TOWIE
lot".
In the past she's sold wine stocks and commodities which turned out to be very lucrative, "people say you can't do it because you don't have this or that like only two GCSEs but if you set your mind to it you can do it".
Her dream job would be getting into TV or becoming an air hostess. She's happily single but "I love flirting and chatting to boys as long as they have banter and can handle me they're alright".
| | |
| --- | --- |
| Aug 21 2012, 00:01 | |
| Aug 15 2012, 12:36 | |
| Aug 13 2012, 21:20 | |
| Aug 11 2012, 21:42 | |
| Aug 10 2012, 23:17 | |
| Aug 10 2012, 11:55 | |
| Aug 10 2012, 11:30 | |
| Aug 09 2012, 11:50 | |
| Aug 07 2012, 22:01 | |
| Aug 07 2012, 17:15 | |
| Aug 07 2012, 15:49 | |
| Aug 06 2012, 21:01 | |
| Aug 06 2012, 18:06 | |
| Aug 06 2012, 17:12 | |
| Aug 06 2012, 13:53 | |
| Aug 03 2012, 11:31 | |
| Aug 03 2012, 11:13 | |
| Aug 03 2012, 10:38 | |
| Aug 02 2012, 12:11 | |
| Aug 01 2012, 15:30 | |
| Jul 31 2012, 15:19 | |
| Jul 30 2012, 18:03 | |
| Jul 30 2012, 15:43 | |
| Jul 26 2012, 13:07 | |
| Jul 26 2012, 12:38 | |
| Jul 24 2012, 14:46 | |
| Jul 23 2012, 18:47 | |
| Jul 23 2012, 17:14 | |
| Jul 19 2012, 22:00 | |
| Jul 18 2012, 15:43 | |
| Jul 16 2012, 16:36 | |
| Jul 14 2012, 21:53 | |
| Jul 12 2012, 14:17 | |
| Jul 12 2012, 13:19 | |
| Jul 08 2012, 21:41 | |
| Jul 06 2012, 23:19 | |
| Jul 06 2012, 21:08 | |
| Jul 04 2012, 22:31 | |
| Jun 29 2012, 19:06 | |
| Jun 28 2012, 13:14 | |