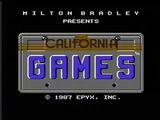 First released:
Apple II, Commodore 64 (1987)
Now available on:
Virtual Console, PSN
Between the bronze medal performance of the official
London 2012
game and the typically British weather, we've found ourselves yearning for sunshine and a good sports sim. Step forward
California Games
and brighten up our summer.
Developed by
Epyx
in 1987, the game followed in the footsteps of the studio's
Summer Games
and
Winter Games
series, borrowing many of their hallmarks. It debuted on the Apple II and Commodore 64, but it's the subsequent NES port that sticks in our mind.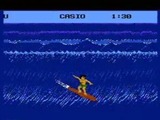 As the title suggests,
California Games
is based around sporting events traditionally popular in sunny California, such as skateboarding, freestyle footbag, surfing, roller skating and BMX. Such events were replicated in simplistic, yet strategic fashion, using a minimalist interface where timing was of the essence.
All of these mini-games had a simulation feel to them with a dash of arcade playability. Factors such as physics had to be taken into account when tackling that half-pipe in skateboarding, or negotiating a wave while surfing, but the approach was tongue-in-cheek.
The developers showed off their collective sense of humour with a dozen quirky Easter eggs scattered across the sports. For instance, players who repeatedly botched the frisby event were abducted by aliens, and Jaws the shark made a cameo appearance in surfing accompanied by an 8-bit rendition of his iconic theme. During footbag, it was possible to hit a seagull, a feat which earned players extra points.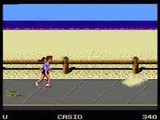 For the trivia fans out there, several members of
California Games
' development team went on to achieve great things in computing. Ken Nicholson, who designed the footbag games, invented the technology behind Microsoft's DirectX, while skateboard mastermind Chuck Sommerville found success with the game
Chip's Challenge
.
California Games
proved to be a big hit among fans and critics alike when it touched down on Apple II and C64, inspiring Epyx to bring the game to a host of new platforms, including the 16-bit Sega Mega Drive and the handheld Atari Lynx.
Many gaming commentators cited
California Games
as Epyx's last truly great sports game before extensive staff changes shook up the studio. This was reflected in the game's early-'90s sequel,
California Games 2
, which was generally considered an inferior follow-up.
System 3 currently holds the rights to the game, and has done its bit to ensure its legacy remains strong with a re-release for mobile phones and current generation consoles such as the Nintendo Wii via its online storefront.
In closing,
California Games
remains a charming and fun sports sim, so if you want to inject some much-needed sunshine into your typically British summer, it's certainly one to consider.
Do you have any fond memories of California Games? Write a comment in the space below.