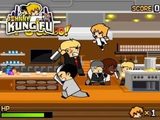 Johnny Kung Fu
headlines this week's Nintendo eShop update.
Help Johnny rescue his girlfriend Paula from the evil Mr. Wang Gang in this old-school action game.
Johnny Kung Fu
is available in the 3DS eShop for £5.40.
Also available in the 3DS eShop is the Game Boy Colour classic
Toki Tori
, four new downloadable songs for
Theatrhythm Final Fantasy
and the 3D video
The Incredible Barbazan: The Knife Thrower
.
Meanwhile, new titles
3, 2, 1… WordsUp!
and
Ace Mathician
are now available in both the 3DS eShop and on DSiWare.
Finally, the Wii shop gets an update with the Neo Geo classic fighter
The Last Blade
on Wii virtual console.
> Read last week's Nintendo download update
This week's eShop update in full:
3DS eShop
Johnny Kung Fu (£5.40)

Toki Tori (£3.60)
3DS Game Add-Ons
Theatrhythm Final Fantasy
Movement in Green (FF10 - FMS) (£0.90)

Sunken Shrine (FF01 - FMS) (£0.90)

Battle Theme (FF10 - BMS) (£0.90)

Fight On! (FF07 - BMS) (£0.90)
3DS Videos
The Incredible Barbazan: The Knife Thrower (£1.40)
DSiWare
3, 2, 1… WordsUp! (200 Nintendo Points / £1.80)

Ace Mathician (200 Nintendo Points / £1.80)
Wii Virtual Console
The Last Blade (900 Nintendo Points)