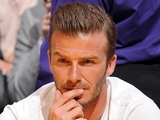 David Beckham
's father is reportedly among a new group of individuals taking legal action against Rupert Murdoch's
News International
over alleged phone hacking.
Ted Beckham is understood to have submitted a claim form at the Royal Court of Justice in London, under his full name David Edward Alan Beckham.
He is among a series of high-profile public figures suing News Group Newspapers, the subsidiary of News International which published the now-defunct
News of the World
, along with Glenn Mulcaire, the private investigator who conducted voicemail interception on behalf of the paper.
News International say that its policy aims to settle any cases of past wrongdoing. David Beckham has been a regular target for the tabloids, including previous
News of the World
stories on a plot to kidnap his family, as well as a 2006 article claiming that former England manager Sven-Göran Eriksson was preparing to take over Aston Villa and lure Beckham from Real Madrid.
However, David Beckham has never issued a formal complaint against the
News of the World
, and neither has his father.
News International has already settled 55 out of 60 civil cases that were brought against it over invasion of privacy, including
major deals with Charlotte Church, Steve Coogan and Sienna Miller
.
However, the publisher is understood to be facing up to 200 further civil actions, which is expected to push the company's multi-million pound pot set aside for hacking settlements to bursting point.
Alongside Ted Beckham, those known to have taken legal action include Cherie Blair, the wife of former prime minister Tony Blair, UKIP leader Nigel Farage, the singer James Blunt and Alex Best, wife of the late footballer George Best.
Television and radio personalities Jamie Theakston and Jeff Brazier are
also understood to have lodged lawsuits
, along with boxer Chris Eubank and footballers Jermaine Jenas, Kieron Dyer and Peter Crouch.
The Guardian
reports that News Group News Newspapers has also directly received around 50 inquiries from phone hacking victims wanting compensation under its own scheme established last year.