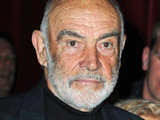 Sir
Sean Connery
refused to follow up warnings from police that he may have been a victim of phone hacking as he did not want anything to do with the scandal.
According to
The Daily Telegraph
, the actor's name is said to have appeared in the records of Glenn Mulcaire, the private investigator who was jailed in 2007 for intercepting voicemails on behalf of the now defunct
News of the World
.
Police are said to have contacted Connery to inform him that his phone may have been targeted by Mulcaire, and even potentially accessed illegally.
However, the former
James Bond
star, who is a high profile supporter of the Scottish National Party, decided not to return the call as he did not want to get involved, his representative claimed.
"An attempt to contact Sir Sean was made by an individual connected with the investigation into phone hacking," said the Scottish actor's representative.
"No specifics were supplied and Sir Sean didn't return the call as he truly didn't wish to be involved. He is enjoying his retirement."
> Sean Connery makes rare appearance to open NYSE – video
Murray Grigor, Connery's friend and biographer, told
The Telegraph
that there were apparently "ten instances" of alleged hacking.
"The police were quite excited about it but he doesn't want to know," said Grigor. "He doesn't want anything to do with it. He's just having a good time and he just shrugged it off."