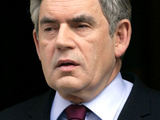 The Cabinet Office has confirmed Gordon Brown's version of events regarding a call that he supposedly made to
Rupert Murdoch
saying that he would "make war" on the media mogul's empire.
The BBC's Norman Smith has just
tweeted
information he received from the Cabinet Office regarding the claims made by the former prime minister at the Leveson Inquiry into media ethics this week.
It says: "We confirm there is a record of only 1 call between Mr Brown and Rupert Murdoch in year to March 2010 on 10th of Nov 2009."
The Cabinet Office said that there was a phone conversation in November 2009 between Brown and the
News Corporation
boss, but this was followed by an email referring to a discussion on Afghanistan.
Gordon Brown's spokeswoman said: "This statement confirms Mr Brown's evidence to the Inquiry."
The ex-PM's team added that Murdoch has been unable to provide any evidence of the alleged 'declaration of war' supposedly made by the then PM in September 2009, after
The Sun
shifted its support to the Conservatives ahead of the 2010 election.
However, Murdoch's News Corp issued a statement earlier in the week saying: "Rupert Murdoch stands behind his testimony."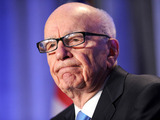 Appearing at the Leveson Inquiry in April
, the 81-year-old billionaire detailed the implosion of his relationship with Brown.
He claimed, under oath, that Brown phoned him at the time
The Sun
shifted its allegiance and said: "Well, your company has declared war on my government and we have no alternative but to make war on your company."
Asked why the former Labour leader would say that, Murdoch replied: "I don't think that he was in a balanced state of mind."
However, Brown
took the stand at Leveson on Monday (June 11)
and denied that the call had ever taken place.
"This call did not happen, this threat was not made," he said.
"I couldn't be unbalanced on a call that I didn't have... and I find it shocking that we should get to this situation some time later when there is no evidence of this call happening at the time that he says it happened and you to be told under oath that this was the case."
The former Labour leader released Downing Street phone records to the inquiry showing that he had spoken to Murdoch on November 10, 2009, at 12.33pm. He said that the two had spoken about the war in Afghanistan.
The Cabinet Office information released today (June 15) appears to back Brown's version of events, and so there could now be more questions from Lord Justice Leveson over Murdoch's evidence.
> David Cameron: Talk of News Corp pact 'nonsense'
> George Osborne denies Sky bid decision conspiracy