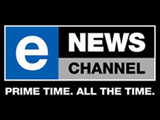 South Africa's independent news network eNews is to launch in the UK on Sky, it has emerged.
Users of
Digital Spy
's television forums
reported
that the eNews Channel will take the slot on Sky's electronic programme guide where Africa Channel+1 used to be.
The network will start broadcasting in the UK "within weeks", and tests broadcasts on Sky are already underway, it has been revealed.
The
TV with Thinus blog
, which first reported the launch, said that the channel will change its name to ENCA for the Sky launch.
In an official press release, South Africa's first independent 24-hour news service confirmed that it will soon expand outside of Africa.
An exact date for the UK launch has not yet been announced, but it will be "within weeks" once testing has been completed.
Patrick Conroy, the group head of news at broadcaster e.tv, said that the move will give the channel access to more than 10 million British homes on Sky.
"What is really significant is that we will have access to the South African expat community. If they want news from home it is just a click away," he said.
Alongside the rebranding,
TV with Thinus
reported that the eNews channel will also unveil a "new look" when it arrives in the UK.
"Due to our expansion we will have to rebrand our service to make it relevant to viewers abroad and here at home," said Conroy.
"It will be more of a brand tweak than an overhaul, viewers need not be concerned. It will still be the same news service with the same content. The only difference will be our appearance."
Conroy said that eNews will not be rebranding its eNews Prime Time bulletin on e.tv or its Afrikaans language service on kykNET. It is just the eNews channel that will rebrand.
eNews, or ENCA, will also launch a new website in Britain by the end of 2012, offering rolling online news coverage in a similar vein to BBC News, Sky News or CNN.