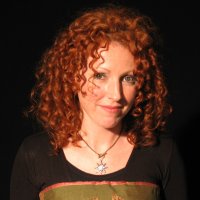 Each week we'll be asking people from all parts of the media industry - from channel controllers to catering staff, directors to digital technicians - to tell us about themselves and their job.
ITV1's
Soapstar Superstar
began on Friday so
DS
spoke to the show's vocal coach, Jo Price.
Name
Jo Price
Job Title
Voice coach,
Soapstar Superstar.
Age
36
Lives
Manchester
In the role since
I've been voice coaching since 1996.
Responsibilities
Warbling, mixing hot water, honey and lemon, clapping loudly during on-set rehearsals and preparing the vocal sessions for all my clients.
Best thing about your job
Slicing the lemons.
Worst thing about your job
Teaching people to sing. My ears can only take so much.
First thing you do in the morning when you get in?
Slice lemons.
Any downsides to working in your job?
Not really, but sometimes the lemons aren't fresh, and are quite hard to get hold of.
First media/TV job
Voice coach for ITV's
Celebrity Stars In Their Eyes
in 2000.
Biggest achievement to date
Starting my own vocal academy in Manchester in 2001.
Anything you wish you'd done differently?
Absolutely not, I really, really love my job.
Dream job/company/lifestyle
I've done it. Towards the back end of last year I took part in and helped train all the people from Ant and Dec's 'Boyband Challenge', part of
Saturday Night Takeaway
, with various soapstars and celebs taking part.
Best media jolly you've ever attended
Having worked with Howard Donald from Take That, seeing the boys re-united on tour last year was absolutely amazing for me, and I was very proud of Howard.
Who do you think will win Soapstar Superstar?
After my excellent voice coaching, they all stand the best possible chance.
Presented by Zoe Ball, with judges Martine McCutcheon, Michael Ball, showbiz mogul Billy Sammeth and TV director and producer Chris Cowey,
Soapstar Superstar
airs tonight on ITV1 at 9pm, with
Soapstar Superstar: Bonus Tracks
on ITV2 at 10.30pm.