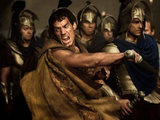 The
Twilight
finale first parter looms large this month with the eagerly-awaited release of
Breaking Dawn
. If vampires and werewolves aren't to your taste then don't panic, because there's plenty of diverse treats in store on the big screen.
Digital Spy
previews five of the must-see movies for November below.
ImmortalsRelease Date:
November 11
Why you should see it:
A chance to see
Henry Cavill
before he hits the stratosphere as Superman,
Immortals
promises some dazzling visuals from director Tarsem Singh, epic scenery chewing from Mickey Rourke as villain King Hyperion and some bone-crunching action. Yes, it all looks a bit like
300
and
Clash of the Titans
, but the stunning trailers have certainly ramped up the anticipation levels.
The Rum DiaryRelease Date:
November 11
Why you should see it:
As if seeing Johnny Depp outside of his Jack Sparrow comfort zone wasn't tantalising enough,
The Rum Diary
also marks the filmmaking return of
Withnail & I
director Bruce Robinson after a 19-year absence. With a Hunter S Thompson adaptation no less! Depp struck gold playing the gonzo author in
Fear and Loathing in Las Vegas
, so a second spin in the role - albeit as Thompson alias Paul Kemp - is something to look forward to.
Wuthering HeightsRelease Date:
November 11
Why you should see it:
Oscar-winning British director Andrea Arnold follows up her acclaimed drama
Fish Tank
with
Wuthering Heights
, her unique take on Emily Brontë's tragic tale of Catherine Earnshaw and Heathcliffe.
Skins
' Kaya Scodelario is Cathy, while newcomer James Howson is the brooding Heathcliff. The film itself will likely divide viewers and critics, but we took a shine to it after
seeing it at the London Film Festival
.
The Twilight Saga: Breaking Dawn - Part 1Release Date:
November 18
Why you should see it:
Now that the
Harry Potter
series has closed its doors, it's down to
Twilight
to emerge as the fantasy franchise of choice.
Breaking Dawn - Part 1
will see Bella (Kristen Stewart) marry Edward Cullen (Robert Pattinson), sleep with him and then fall pregnant with his potentially deadly vampire baby! The movie has been too hot to handle for some, with scenes of Edward's
"graphic thrusting"
left on the cutting room floor!
MoneyballRelease Date:
November 25
Why you should see it:
This Brad Pitt movie almost didn't happen after Steven Soderbergh exited the director's chair just days before it was set to start shooting. Thankfully,
Capote
's Bennett Miller stepped in to save the day for this true-life baseball drama, which sees Pitt and Jonah Hill assemble a misfit group of players and take them on a record-breaking run. With Aaron Sorkin on co-writing duties, expect some sharp repartee amid the walking and talking.
What movies are you looking forward to seeing in November? Should we have included In Time, 50/50 or My Week with Marilyn? Leave your comments below!