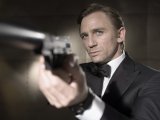 The Queen and the Duke of Edinburgh are to attend the world premiere of the new James Bond film,
Casino Royale
.
The premiere will take place in London's Leicester Square and features a new Bond in the form of Daniel Craig.
The film is an adaptation of Ian Fleming's very first James Bond novel not including much-loved characters such as Miss Moneypenny or Q.
Craig, 38, told the
BBC
that he had a particular respect for Sir Sean Connery's films. He commented, "I think they're great films and they set up the whole thing really.
"It's one of those things, isn't it, with a Bond movie - it can be a wet Sunday afternoon and Bond comes on the television and it's like, you know what, I'm going to watch this, because they've all got something special about them."
Casino Royale
premieres tonight.