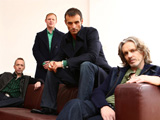 In 1994 Wet Wet Wet were the biggest band in the UK. 'Love Is All Around' had attached itself with extra-strength superglue to the peak of the pop charts and lasted a near record-busting 14 weeks, beating off all comers. Marti Pellow's floppy hair and goatee beard had young women swooning at seven o'clock every Friday night when
Top Of The Pops
came on the box. Their albums
Popped In Souled Out
and
High On The Happy Side
had scored them acclaim and a hardcore fanbase. They were four lads from Clydebank High School that wanted to make massive pop records and tour the world.
Then it all went a bit woopsy. In their words: "We became a can of beans at that point!" Pellow turned to Class A drugs, friendships eroded, the band squabbled over royalties and ended up splitting just three years after their biggest hit. Ten years down the line and they're back with a new single, album and huge arena tour.
DS
caught up with drummer Tommy Cunningham to find out what's changed in the world of Wet Wet Wet.
You've got a new single called 'Too Many People' coming out. Can you tell us why you chose to come back with the song and what it's about?
"We've been in the studio for two years now and it was a no-brainer as a first single. Not because we chose it but because everyone else chose it. The way we do it is we bring CDs home and let other people hear it, and 'Too Many People' kept coming up as everybody's choice. It's got a dance sensibility, it's a pop record and has all those elements. So we said, 'Yeah, 'Too Many People' that's the new single. Its meaning is pretty straightforward, it's just about how life gets faster and crazier and more and more nuts and too many people are crossing that line, attempting to get themselves accepted into that lifestyle. It's about excess and taking too much."
It's been ten years since your last studio album. How has the record industry changed while you've been away?
"It's massive. In 1997 record companies ran the industry. Now they don't. It's the consumers that run the industry. The power has returned, a, to the band, and b, to the consumer. People can go online and find their music virtually for free now. What the challenges are, is how do you get your music to the people? Do you give it away for free? And if so what is your outlet for that? Is it a newspaper or a tie-in with another organisation? Also there isn't programmes like
Top of the Pops
anymore watched by 18 million people. You have to struggle to really get it out there.
"That's the challenge we face. So we decided to take on everything and say, 'Right, we'll become our own record company and take those challenges on, head on'. If we had joined a major record company we would have had to have signed the rights to everything across. Including touring, merchandising, records and the whole image of the band would have been in someone else's hands. So we decided there's no way we're doing that. We're not selling our soul to the devil."
You've decided to release your new album without a record company. Do you think it will be a struggle to promote it without the marketing machine they provide?
"That's all that record companies are. Record companies in our heyday were just marketing departments and spending money. They were just about TV advertising and massive jets. There was too much excesses they just overspent on everything. Videos that cost hundreds and hundreds of thousands of pounds. I think that the industry has learned that you don't need to spend that kind of money now. You don't need to go crazy, all you need to have is a great song.
"So forget all the hype and all the glamour that appears to go with it. Let's just get back to the basics of a good song. Wet Wet Wet are now in charge of what interviews they do and when they get done and how we promote the record. We decided to play live as our promo. We're lucky in that we can pull out the big guns like 'Love Is All Around' and 'Goodnight Girl' and then go, 'Here's a new one'. So we're lucky like that."
It's been over two years since you reunited for your best of. Why has it taken so long to follow it?
"That was our decision to take that long. Wet Wet Wet weren't going to compromise on anything. Let's not set six months to be our time in the studio. Let's go in for three weeks and then take some time off, and do that again, and again, and again. So it took us two and half years. Plus it used to be that nobody could step off the merry-go-round at the end of Wet Wet Wet last time. You couldn't make any private decisions for your life in any way. Now you can. I can hold up my hand now and say, 'I can't do Wednesday', and then lo and behold Wednesday will get cancelled. It is really as simple as that. That's why it's taken so long, because we've done it under our own steam and at our own pace. We just made sure we were taking care of business."
Was it tempting to just carry on playing the hits?
"Two and a half years ago we sat down and said, 'If Wet Wet Wet are going to carry on, there is only one way of doing it and that has got to be with new music.' We could have come back every four years just for the nostalgia and no offence to the guys doing that but we couldn't do it. We just think it would be soul destroying. So for us it's about the new music. Fans can expect songs that are contemporary. Songs that hold their own and belong in the charts. That are relevant today. We've moved forward and pushed the boundaries with our songwriting ability and performing ability. So basically, add that into one package and you're going to get entertained by Wet Wet Wet."
After the problems and split in 1997, was there not any tension or concern about returning to the studio as a group?
"There wasn't any problems but there were obviously and definitely concerns. You can not underestimate what it took for us to get back together. We took success to massive heights as a band and we paid the price for it. We're the boys that got everything they ever wanted and lost what they had. What we had was a friendship and a bond and we lost that for six years. We're never going to let that happen again. It's an absolute pleasure to walk onstage now with those four guys. When we got back in the studio we were tip-toeing around the studio but now we're just back to being mates again. Nothing seems that important anymore, that's what it is."
We don't mean to be rude but are you starting to feel a bit old when you get onstage these days?
"Put it this way we're not going to be working on dance routines that's for sure! A show at arena level, they're always all singing and dancing, but that's with screens, lasers and explosions. But thankfully music isn't ageist. Well at last for bands, it isn't. For bands that do dance routines it starts to get into muddy waters. With dance routines it might get a bit embarrassing. I don't think it's embarrassing to walk onstage in your 40s, in a normal band, and play 20 of your songs."
What are your feelings about 'Love is all Around' looking back now?
"As soon as that first bar hits, whether it be in front of a hundred people or a hundred thousand people, the place explodes. The roof comes off. Wherever it is around the world. My feelings for the song are great. What a thing to have. Alexander, I wouldn't be speaking to you now if it wasn't for 'Love is all Around'. Wet Wet Wet would have disappeared from the public eye a long time into the past. That level of success means you belong to the wallpaper now. You can then always come back. You can still ask people now if they've heard of Marti Pellow or Wet Wet Wet and 99% of the time they'll say 'Yes'."
Do you ever regret withdrawing it from the shops so it wouldn't break the record for being the longest standing number one?
"I 100% stand by it. The level of success we had was too much to take. Four working class guys from Glasgow could not handle that level of success. It only took three years from that song and we had split up. In 1997 we fell too pieces. Deleting it from the charts was the first example of us saying, 'Please stop this. This is getting too crazy.' We stopped being a band and started being individuals when that song became a hit. We started believing the hype. The success really was too great. Four different private jets flying all over the world just to go and do an interview. We stopped being a band and started becoming a product. We became a can of beans at that point! The world had suddenly changed for the worst. You'll often see quotes from bands when they are achieving the most success saying they are unhappy. That's no difference to us."
So what would your advice be to young pop and rock stars today be?
"When you think you're getting everything you ever wanted, re-evaluate it. Go to bed early. Don't go to the bar. That's the truth. As soon as your get that little devil on your right shoulder saying, 'Go to the bar! Go to the bar! Be mad, be crazy', always listen to the left side, saying 'Take it easy, it's not important. This is not glamorous. This is a job'."
You recently played a tour of Hard Rock Cafés for the Caron Keating Foundation. How did you get involved with that?
"Caron Keating as a presenter, we were on many shows with her back in the day. Whether it was
Children In Need
, kids TV and things. So we knew her well enough to know that it was tragic what happened to her, to happen to such a young person. We knew we were out and about doing promo and then we heard the Caron Keating Foundation was being backed by the Hard Rock Cafe tours. So we put the two together. We get to play new songs and the spotlight gets put on the foundation. The important thing was that at eight o'clock every night everybody was thinking about the foundation."
Wet Wet Wet's new single 'Too Many People' is available to buy now. Their new album Timeless is released on November 12.