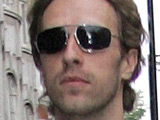 Coldplay
have admitted that they get hairy and overweight when they are between albums.
Singer Chris Martin said his group enjoyed "baked goods" during their "downtime", which resulted in them putting on weight before the release of their
Viva La Vida
LP.
"It happens whenever we have some downtime, usually between albums," he told
The Mirror
.
"We get very hairy and kind of morph into Bill Oddie - we stack on the weight."
Martin claimed the group were inspired to begin dieting after a conversation with Primal Scream bassist Mani.
"He was eating a sandwich and I asked him what was in it. He told me it was salad and that I should eat the same," explained Martin.
"Mani warned us that nobody wants a fat pop star."