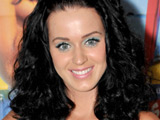 Weezer frontman Rivers Cuomo and
Katy Perry
have teamed up to work on new material for the
'Waking Up In Vegas'
singer's next album.
Cuomo revealed the plans while playing a word association game during a recent interview with
Buzznet
.
The star was prompted with "Katy Perry", to which he replied: "We're writing together next week. Can't wait!"
Cuomo recently admitted that
Lil Wayne
guests on Weezer's forthcoming album
Raditude
, scheduled for release on October 26.