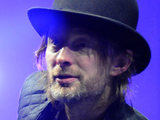 Thom Yorke has revealed his secret Glastonbury DJ setlist from Friday night for fans online.
The Radiohead frontman joined long-time friend and producer Nigel Godrich on the decks in the Shangri-La area of the music festival site following
the band's surprise gig on the Park Stage.
Songs the pair played included Major Lazer's 'Pon Da Floor' and DJ Shadow's 'Organ Donor'.
Radiohead's Glastonbury gig was the first opportunity for fans to hear the band's recently-released
Kings of Limbs
album performed live.
> Radioheadad unveil new song 'Staircase' (live 'From The Basement')
Thom Yorke and Nigel Godrich's DJ setlist was as follows:
Blaqstarr & Diplo - 'Get Off (Rob3 Remix)'
Felix Da Housecat - 'Madame Hollywood'
Madvillain And Medaphor (And Madlib) - 'Raid'
Mos Def - 'Quiet Dog'
Major Lazer – 'Pon Da Floor'
Tip Sl2 - 'On A Ragga'
Boy 8 - Bit - 'Fog Bank'
Errr Us And Lone – 'Feral (Lone Remix)'
Moderat - 'Seamonkey (Untold Remix)'
Modeselektor - 'Kill Bill Vol. 4'
Nathan Fake - 'Undoing The Laces'
Boy 8 - Bit - 'Mad Again'
DJ Shadow - 'Organ Donor'
UK Apache With Shy FX - 'Original Nutter'
Untold - ' I Can't Stop This Feeling (Pangea remix)'
Pangea – 'Why'
Public Enemy – 'Night of the Living Baseheads'
Watch Radiohead perform during their surprise gig at Glastonbury 2011 below: