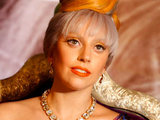 Lady GaGa
has revealed that her new music video is "autobiographical".
The singer will release
'Marry The Night'
as the fifth single from her
Born This Way
album on November 20.
Speaking on India's
NDTV
, the star explained: "I directed this video myself. This is my first directorial debut.
"I've also directed a special that's coming up in America around Thanksgiving, which I'm excited for you all to see."
She added: "It has been a wonderful experience... I'm looking forward to sharing this autobiographical video with the world. I'm very excited. It's my favourite song off the album."
The performer was spotted filming the video in New York City earlier this month. The shoot consisted of the star performing the track on the bonnet of a car surrounded by fire.
The 25-year-old will also
release her new tour DVD Lady GaGa Presents The Monster's Ball Tour at Madison Square Garden, a remix collection called Born This Way Remixes and a photobook
during the week beginning November 21.
> Lady GaGa reveals new single 'Marry The Night' artwork
Watch Lady GaGa's interview with India's
NDTV
below: