RWD Magazine
has announced details of its new compilation album.
RWD - The Legacy
is a triple CD that serves as a comprehensive collection of the UK underground-to-mainstream scene, including tracks from
Dizzee Rascal
, Wretch 32, So Solid Crew and Professor Green.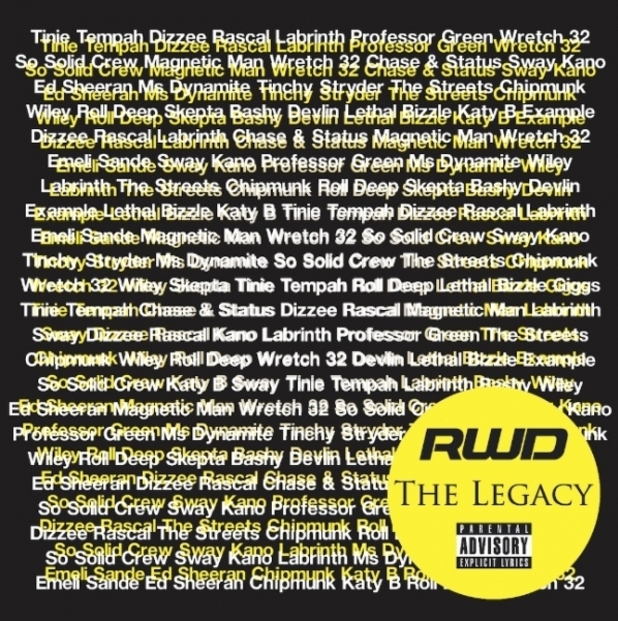 The release also celebrates the ten-year anniversary of the magazine, which has since become one of the UK's leading music publications.
Editor Hattie Collins exclusively told
Digital Spy
: "We're pretty proud at
RWD
for surviving 10 years - and counting! If I think about what doing a compilation album with a major label means, not only to us, but the UK scene that we've followed over the years, it's a pretty big deal.
"Finally, the UK urban scene has found its voice and place in the pop charts and mainstream British culture. And similarly,
RWD
has become a major title in the publishing world."
She explained that the album is one that "refuses to be constricted by genre", adding: "You've got everything from Chase & Status to Toddla T, Heartless Crew, The Streets to Tinchy's 'Game Over remix' with Professor Green, Devlin, Example, Chipmunk, Tinie and Giggs.
"It was vital to us that
The Legacy
was... a reflection of the amazing, brilliant UK scene and us as a magazine who have been fortunate to be a part of that scene. I think we've managed to achieve just that."
RWD - The Legacy
is available to download from May 21. Listen to
The Legacy
megamix below:
The full album tracklisting is as follows:
CD 1
Dizzee Rascal – Fix Up, Look Sharp
Tinie Tempah feat. Labrinth – Pass Out
Lethal Bizzle – Pow (Forward)
Wretch 32 feat. L – Traktor
Tinchy Stryder feat. Professor Green, Tinie Tempah, Giggs, Chipmunk, Example & Devlin – Game Over
Labrinth feat. Tinie Tempah – Earthquake
Wiley – Wearing My Rolex
Sway feat. Kano – Still Speedin' (Remix)
Chase & Status feat. Tinie Tempah – Hitz
Magnetic Man feat. P Money – Anthemic
Lewi White feat. Devlin, Ed Sheeran, Yasmin & Griminal – Young Guns
Dot Rotton – Are You Not Entertained?
Skepta – Doing It Again
Devlin – Let It Go
Chipmunk – Chip Diddy Chip
Naughty Boy presents Wiley feat. Emeli Sande - Never Be Your Woman (Shy FX Radio
Edit)
Katy B – Katy On A Mission
Roll Deep feat. Jodie Connor – Good Times
So Solid Crew – 21 Seconds
CD 2
Sticky feat. Ms Dynamite – Boo
DJ Luck & MC Neat – Little Bit Of Luck
DJ Pied Piper & The Masters Of Ceremonies – Do You Really Like It?
Oxide & Neutrino – Bound 4 Da Reload
Artful Dodger – Re-Rewind
Pay As You Go Cartel – Champagne Dance (Brown Acid Radio Edit)
Heartless Crew – The Heartless Theme (A.K.A. Superglue Riddim)
Platinum 45 feat. More Fire Crew – Oi!
Boy Better Know – Too Many Man
Gracious K feat. Mz Bratt – Migraine Skank
KIG – Headz, Shoulderz, Kneez & Toez
MC Versatile – Let's Start The Party Now (Supa Bad Remix)
The Streets feat. Kano, Donae'o, Lady Sovereign & Tinchy Stryder – Fit But You Know It
(MC's Remix)
Adam Deacon feat. Bashy & Paloma Faith – Keep Moving
Clement Marfo & The Frontline feat. Ghetts - Overtime
Toddla T feat. Tinchy Stryder & Mr Versatile – Safe
K Koke feat. Jaga – Lord Knows
CD 3
Wiley & Chew Fu – Take That
Kano – P's & Q's
Sway feat. Pyrelli – Up Your Speed
D Double E feat. Dizzee Rascal – Bluku Bluku
JME – Serious
Chipmunk – Saviour
Crazy Cousinz & MC Versatile – Funky Anthem
PW – Winner
Lady Leshurr – Lego
Jammer – Murkle Man
Scorcher – Dark Knight
J Sweet & Alias feat. MIK – Ring The Alarm
Durrty Goodz – Don't Ask Me
Davinche feat. Ghetto, JME, Keedo & Steelo – Rider
C4 – Off Track
Kozzie feat. Marger, Merky Ace, Rival, Ego & Scrufizzer – Spartan
Maxsta – East London Is Back
Benny Banks – Bada Bing