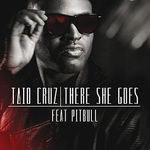 "There's a new way of approaching it,"
Taio Cruz
recently said in an interview about the wave of dance music currently ruling the charts. With songs from the likes of Flo Rida, David Guetta and LMFAO all starting to blur into one, we're all for supporting him in leading the genre into new and exciting territories.
Unfortunately, the revolution appears to begin and end there. Guest rapper Pitbull announces the track's lineup on the intro as "RedOne, Taio and Mr Worldwide"; a combination about as cliché as a box of Milk Tray and more worn-out than our spare running shoes. It may not be original, but even as Taio works through some dodgy lyrics about his "star" with a body shaped like a "rock guitar", we still can't help but get taken in by it all.

Watch the 'There She Goes' music video below: