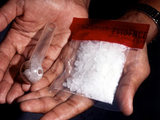 Two methamphetamine users in South Georgia were arrested when they called police after hallucinating intruders.
The men, aged 28 and 25, rang 911 on Tuesday when they thought they saw people breaking into a home, the
Savannah Morning News
reports.
Deputies were dispatched and arrived at 4am to investigate. They met with the two men, who directed them to the house, but no intruders were found.
Police then noticed that the men were high and arrested them. Investigators at the home later found a meth lab and the users were charged with manufacturing and possessing the drug.
A spokesman for the local sheriff commented: "When the deputies arrived, the two came running to the door and reported they could hear people in the back bedroom who had broken into the home.
"They were so high that they called 911 on themselves."
> Police find marijuana Christmas tree
> Vibrator causes police to break into flat