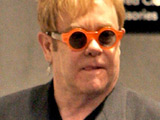 Rufus Wainwright has branded
Elton John
"shy" when out of the public eye.
The
Rocket Man
musician, who helped Wainwright beat his crystal meth addiction in 2000, "constantly [feels] very insignificant" according to the singer.
The 36-year-old said: "I don't think people are aware of how shy he is. He's a bit like the Wizard of Oz. On the one hand there's this big pomp and circumstance.
"But really beneath it all there's this very sweet little guy who's constantly feeling very insignificant, which is ironic of course. What I'm saying is, he's quite shy."
Wainwright added that, during his drug abuse, he went temporarily blind.
"I lost my sight for one or two hours. I can't quite gauge it exactly. During that period of losing my sight, I was also losing my mind.
"I could feel my sanity lifting off, and I wasn't sure it would come back again. But it did and thankfully I'm still here today."
Elton John recently
spoke
sabout his insatiable addiction to cocaine and his regrets about having destroyed the "self worth" of his previous partners.