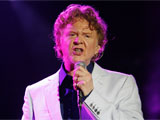 Mick Hucknall
's 10-year-old great-nephew has hanged himself after being bullied at school, it has emerged.
The singer is said to be distraught after Harry Hucknall was found hanging from a belt at his Cumbria home on Sunday, according to the
Daily Express
.
A neighbour discovered Harry after climbing a ladder at the request of the boy's mother, who had become agitated when his bedroom door remained locked.
Despite attempts by his mother and paramedics to resuscitate him, Harry was pronounced dead upon arrival in hospital.
Harry's father Darren is the nephew of Simply Red frontman Mick, who is currently in Hong Kong.
A spokeswoman for Mick's management team told the
Buxton Advertiser
: "Mick is travelling at the moment, as the band are on tour in Asia, so I haven't been able to speak with him, but I am sure that Mick will be shocked and saddened by this terrible news, as we all are.
"Our thoughts are with Harry's family."