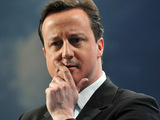 Peaches Geldof
has admitted that she is attracted to Prime Minister David Cameron and Labour Party leader Ed Miliband.
The socialite told
Company
magazine that she approves of the current "suave" lineup of UK politics, describing Miliband as one of her "favourite things" about Britain.
"He's fit," she said. "In fact, both Miliband brothers - and David Cameron, for that matter - are quite fit. British politics has a suave thing going on."
Geldof is currently dating S.C.U.M. singer Thomas Cohen.