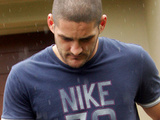 Alex Fevola
has revealed that she is getting her life "back" on track.
The 33-year-old former Australian
Dancing With The Stars
contestant, who has 11-year-old Mia, 4-year-old Leni and 1-year-old Lulu with estranged husband Brendan, said that she is pursuing a career in photography.
Alex told the
Herald Sun
: "I've just started back and I've got a renewed passion for photography.
"I think having that break and some time out after my last baby rejuvenated my enthusiasm. It's vitally important to have not only your own independence but for me, a mother of three, I've got to know that I'm financially secure."
Alex and sports star Brendan
split
after he
admitted
that he was hundreds of thousands of dollars in debt due to a gambling addiction.