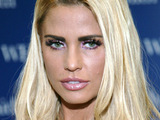 Katie Price
has insisted that she "wouldn't change" her son Harvey "for the world", as she highlighted his disabilities in a one-off documentary airing tonight.
The 33-year-old
opens up about raising her 9-year-old son - who suffers from septo-optic dysplasia
- in light of jokes made by stand-up Frankie Boyle.
"A lot of the public just think Harvey is a big fat kid who's blind,"
The Mirror
quotes Price as saying in footage. "But it's way more complicated. He was born with septo-optic dysplasia, his brain developed in the wrong way and it is the cause of all his medical and ­behavioural problems.
"He'll ­probably live with me for life and I'm very strong about that. It's easy for me to say because I've got the money, 'Yeah put him in a home, you deal with him, I'll see him at weekends'. I won't do that."
The former glamour model continued: "Considering I never thought he would even see, he knows his alphabet, he can write his name. So to me it's fantastic. He's come on really well. When Harvey is older I would love him to be able to have a simple job like stacking shelves at a ­supermarket, there will be something he can do that is useful.
"Harvey is my son and we have good days and bad days, funny days, challenging days. Regardless of what anyone says, I love him to bits and he is perfect to me. I wouldn't change him for the world."
> Katie Price: 'New show not about becoming a glamour model'
> Katie Price 'wasn't in love with Alex Reid'
One scene sees Harvey, who attends a special school to help improve his limited speech and sight, attack his mother after being shocked by a door banging and guests at their house.
"One of the hardest things to cope with is his autism," Price said. "In a situation he is not used to, the tiniest thing can set him off. You have to be a step ahead. Like if you know a door is going to bang, you have to say, 'Harvey, the door is going to bang'."
On his medical needs, she added: "He has to take five different medications a day and will be on them for life. And it is dangerous – without his medication Harvey will die."
Discussing
the comments Boyle made in his Channel 4 show
, Price said that the comedian "clearly doesn't have a clue" about Harvey's disabilities.
"Whatever you think of me, there's no way Harvey deserved a joke like that," she stated. "When I saw it I just thought, 'How can someone do that? It's horrific. How can that be aired and how can anyone be so vulgar about an innocent child?' And that's why I'm doing something about this. Harvey can't defend himself but I can.
"I hope one day he sees this documentary about Harvey. Actually, I'll probably send him a DVD myself through the post. So he can see what I have to go through and what other people have to go through with their disabilities and it might make him realise not to make remarks like that."
> Katie Price slams "shameful mouse" Frankie Boyle for Harvey joke
> Frankie Boyle's Katie Price joke signed off by C4 chief
Watch the trailer for
Katie Price: Standing up for Harvey
, which airs tonight at 9pm on Sky Living, below: