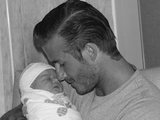 David and Victoria Beckham are reportedly planning to have gold casts made of their new daughter's hands and feet.
The LA-based couple
welcomed their fourth child Harper Seven last month
. According to
The Sun
, they made the moulds using a £1,000 kit.
These will now be made into gold-plated casts by London company First Impressions, previously used by clients including Helena Bonham Carter, Cherie Blair and Jo Whiley.
"Harper is so precious and such a beautiful little girl they wanted a physical representation of how she is now, just a few weeks after her birth," a source told the paper. "David and Victoria can't stop smiling and are the proudest parents on Earth."
Owner Judy Wiseman has previously sculpted for stars including Sir Elton John, Joanna Lumley and Jonathan Ross.
David recently
admitted that he finds it "difficult" to leave Victoria and their children behind
when travelling.
> David Beckham: 'Harper Seven is elegant'
> David Beckham: 'I need shotgun to protect Harper Seven'