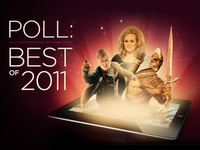 Welcome to the
Digital Spy
end of year poll for 2011!
We're asking you, our 13 million readers, to decide which were the best movies, music and TV shows of the year. It's also your opportunity to declare which games, stars and tech products were the ultimate pleasers.
If you're not interested in certain sections, worry not - just skip those questions and move on. Cast them aside like an
X Factor
contestant embroiled in a sex 'n' drugs scandal.
As a big thank you from us to you, by completing the poll you could also win
£250 in Amazon vouchers
to spend in the New Year.
So, happy voting! And check back in a couple of weeks when we'll be crowning the winners in a no-expense-spared ceremony involving circus elephants, champagne fountains and military-grade fireworks.*
*Or something.