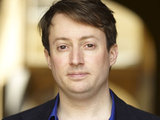 David Mitchell
and Victoria Coren have announced their engagement.
Mitchell, who is best known as the star of
Peep Show
and
10 O'clock Live
, has been dating
Only Connect
host Coren for some time but they chose to keep the relationship private.
The couple, who both write columns for
The Observer
, announced their engagement via an entry in the Births, Marriages and Deaths column of today's
Times
newspaper.
The article read: "MR D.J.S. MITCHELL AND MISS V.E. COREN. The engagement is announced between David, son of Mr and Mrs Ian Mitchell, of Oxford, and Victoria, daughter of Dr Anne Coren and the late Mr Alan Coren, of London."
Coren added on
her Twitter page
: "Thank you for your nice tweets this morning. I'm very happy," while
Mitchell wrote
: "Having received so many lovely messages today, I'm finally coming round to the idea of the internet. Thank you all. I'm incredibly happy."
Last year, Mitchell vented his fury about boastful engaged couples and the myths surrounding wedding days in a video soapbox.
> Robert Webb interview: 'We'll do Peep Show for as long as they let us'
Watch David Mitchell's 'big day' soapbox rant below: