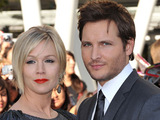 Jennie Garth
has said that she has realised she is "stronger" than she thought she was since her split from husband Peter Facinelli.
The couple
announced their break-up
last month and Facinelli
officially filed for divorce
later in March.
Garth said earlier this week that
the divorce is not something she wants to talk about
but in an appearance on
The Ellen DeGeneres Show
on Friday she acknowledged that it could help other people.
> Jennie Garth: 'Taking care of my kids is my main concern'
> Twilight Peter Facinelli, Jennie Garth deny cheating reports
"It's not something I'm dying to talk about," she said. "But it's something that's going on in my life and I'm not ashamed to talk about it. I think by being open and honest with what I'm going through, maybe it helps somebody else.
"I know I've heard from a lot of people that it helps them with maybe what they're going through. I'm not afraid to talk about it."
> Jennie Garth on Peter Facinelli divorce: 'It's the right thing for us'
> Jennie Garth on Peter Facinelli divorce: 'My life is hectic right now'
Garth repeated the couple's assertion that
they are "committed" to their daughters
and revealed that she has realised how tough she is after the split.
"I think at first I wasn't sure how I was going to make it through," she said. "But I really learned that I am so much stronger than I thought I was, and if I can help other women touch into that, their strength."
Facinelli recently
admitted that the divorce has been "very painful"
, saying: "I love her - we're just going to have a different relationship."
> Jennie Garth: 'I was resistant to Peter Facinelli divorce'
> Twilight's Peter Facinelli 'fought to save Jennie Garth marriage'