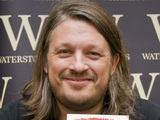 Richard Herring
has defended the title of his comedy show
Talking Cock
.
The stand-up is reprising his 2002 set as
Talking Cock: The Second Coming
at this year's Edinburgh Fringe, though the festival has censored its title in its programme.
"The show must be known as
Talking C*ck
," Herring wrote in his weekly
Metro
column.
"By censoring this word, the monsters putting together the Fringe programme are actually tipping kids off to the fact that the word has an extra, slightly rude definition."
> Richard Herring on Ricky Gervais: Comics should consider consequences
He added: "The prurience and shame directed towards a perfectly normal (if slightly odd-looking) body part is one of the things I want to investigate in this show.
"Shouldn't we be celebrating the schmuck? Bigging up the bald-headed mouse? Eulogising the yoghurt-spitting sausage?
"Why are we too shy to talk about Kojak's moneybox anyway? We're all here because of our dad's Jack the Dripper and most of us get pleasure from the Spurt Reynolds one way or the other, even if it's just to laugh at one when someone's put a pair of spectacles on it."
The comic has set up two online questionnaires regarding the "spam javelin" for
men
and
women
and will use the anonymous results as part of the new show.
Last month it was confirmed that Herring and his former comedy partner Stewart Lee would soon
release series two of Fist of Fun as a four-DVD set
via Go Faster Stripe.
The discs follow the
successful release of the first series
, which the pair had bought from the BBC.
Watch a clip from
Richard Herring's 2011 DVD Christ On A Bike
below: