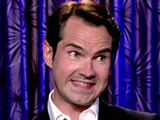 Jimmy Carr
has been
in the headlines for all the wrong reasons this week
, which can't have been fun when he
hosts a topical panel show
.
"I've dished it out enough times lets (sic) see if I can take it," he said on
Twitter
, and that first part is certainly true.
From celebs and the overweight to Jesus Christ and his own grandmother, Carr has never been one to let social niceties get in the way of a good one-liner, as the list below shows.
Photo gallery - Jimmy Carr's ten best one-liners:
Copyright: Channel 5