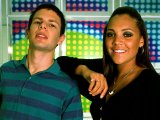 TV presenter Miquita Oliver has revealed that she would love to work with her former
Popworld
co-host Simon Amstell again.
Amstell and Oliver co-presented the Channel 4 pop TV show for five years until they stepped down as hosts in February 2006. They were replaced by Alex Zane and Alexa Chung, but the show has recently been
axed
.

When asked whether she would like to work with Amstell again, Oliver told Digital Spy: "Six months ago I would have said, 'Not really,' but now I really do hope that we work together one day. The only worry is that we'd have to be really good, otherwise people will be like, 'Oh, Popworld was a one-off'.

"I don't know what (the show) would be, but I'd love to work with him again. He makes me laugh so much! It's an absolute joy working with him - it really is."