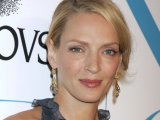 Uma Thurman has revealed that she used to fight with ex-husband Ethan Hawke because she refused to be a stay-at-home mum.
The 37-year-old said she was determined to continue working after the birth of the couple's children Maya and Roan, now aged nine and six respectively.
She is quoted as saying: "He claimed I couldn't be a full-time mother and actress and I always insisted I could. But I couldn't. I really try to give all of myself. I wouldn't even read a script that wasn't shooting in New York because I needed to be home."
The pair separated in 2003 after five years and began divorce proceedings the following year.
Hawke previously
admitted
that he had struggled to cope with his wife's success during their marriage.
Thurman's new film
The Accidental Husband
had its world premiere in London earlier this week.