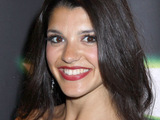 Emmerdale
's Alicia Gallagher resorts to desperate measures in next week's episodes as her financial troubles escalate. With Jacob's birthday fast approaching and Justin still spoiling his son as much as possible, Alicia is saddened by the knowledge that she won't be able to give the youngster a perfect present. Later, when Leyla starts putting pressure on Alicia about an overdue rent payment, the village barmaid panics and decides to raise funds by raiding her sister's shop for stock, secretly loading cigarettes and booze into a hold-all. Here, actress
Natalie Anderson
- who plays Alicia - chats to
Digital Spy
about her character's shock decision.
As Justin has been spoiling Jacob so much recently, do you think he's trying to upstage Alicia?
"I think there is maybe a little bit of that, but not too much. I don't think he's being really vindictive. He obviously loves Jacob just as much as Alicia does but he's not getting to see him as much, as she pretty much has him full-time. I think Justin is probably feeling a bit scared, so he's showering him with gifts to make Jacob love him. But, at the same time, I do think there is a little bit of him that knows Alicia doesn't have as much money as him and that he can buy Jacob bigger and better."
What's going through Alicia's mind when she steals from Leyla's shop?
"When she goes into the shop, she's basically really, really desperate because she wants to buy Jacob a present that he really wants for his birthday and she wants to be the best mum in the world. Because she isn't his biological mum, she's got that fear that he will one day grow up and leave her, so she's trying to overcompensate for that. So it's pure desperation when she goes into the shop and does what she does, rather than being malicious or vindictive."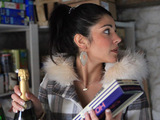 Does she regret it afterwards?
"You'll see that she's very regretful and you'll see that it's not been easy for her to do this. She feels very, very guilty. But her attitude is also that desperate times call for desperate measures, she has to get on with this and it's been for a good cause."
Why do you think Alicia hasn't done the honest thing and asked Leyla for some financial help?
"I think Alicia thinks that would be admitting failure on her part and that Leyla might want to take Jacob back. She's frightened that Leyla might say, 'Well obviously you can't do this - you're not good enough to be his mum'. So that's Alicia's biggest fear. Also, Alicia is a really proud person and that's why she doesn't go to anybody else for help either. It's silly on her part, though, as pride comes before a fall at the end of the day - and that's what happens here. Her own pride gets her into trouble."
Does Leyla have any suspicions when she notices the stock is missing?
"I think she trusts her sister too much, so at this point she has no suspicions whatsoever that it's Alicia."
Often it's been Leyla deceiving Alicia or keeping secrets, rather than the other way around, so has it been nice to explore this different dynamic?
"Yeah, the shoe's on the other foot! I think it joins them as sisters and you can see that they're both quite secretive. They've got this thing inside of them where they're quite proud, they keep secrets and they don't like to speak up! I think it unites them as sisters and shows that they've come from the same tree!"
On a lighter note, are you enjoying the Alicia and Andy relationship?
"Oh yeah, that's lovely! Kelvin Fletcher is great to work with and it's been fun to show Alicia on that journey - having her really interested in somebody after being married to Justin. It's been a lovely journey for both of them, really, and definitely fun to play."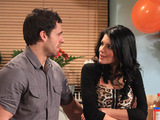 Not long after stealing from Leyla, Alicia spends the night with Andy for the first time. Is she confident that it's the right moment?
"To be honest, I think part of the reason for that is because she feels so bad about what she's done and she feels really lonely. She just wants someone to look after her. She's been running around doing all of these bad things, trying to provide for Jake, and I think that she just wants to be with someone who's going to be nice to her. But I think she is falling for him - she can see that he's a really good dad to Sarah, he's caring and he's affectionate. Yes, he has a past, but so has she. Them spending the night together might not necessarily be the right time, but it just happens."
What's the reaction been like from viewers since you first appeared on screen as Alicia?
"It's actually been really positive! Initially some people were saying they didn't like her because she was being horrible to Leyla, but since then people have warmed to her because I think she's quite humorous. So once the two sisters sorted out their problems, I think people could see that humour in Alicia and they actually quite like her now. I have people coming up to me on the street saying, 'Oh, Alicia's really funny!', which is lovely. It's been a lot more positive than I thought it was going to be."
What have been your favourite storylines so far?
"I loved it when Jake went missing. It sounds horrible, but what I mean by that is that I loved the drama of it and it was brilliant to get the chance to really work a lot with Rokhsaneh. Obviously I do work with her nearly every day, but we had so much material with that storyline, a brilliant director and Matthew Wolfenden was amazing. And little Joe-Warren, who plays Jake, was pushed just as much with all of the stuff that he had - he's such a wonderful child and I love him to pieces. So I loved that and I'm also really enjoying the Andy and Alicia storyline - I'm really looking forward to seeing where it's going to go. I'd like a wedding for sure! A big massive dress would be brilliant. But we'll have to wait and see - this is soap at the end of the day, and it can't always be happily ever after!"
> Click here to read the second part of our interview with Natalie Anderson in Soap Scoop