Life in
Emmerdale
has been far from quiet this year with high-profile storylines including
John Barton's tragic demise
,
Ashley Thomas's downfall
,
an emotional rollercoaster for the Dingles
and the dramas of
Chas and Cameron's affair
.
Show chiefs are now promising much more to get excited about over the next few months as the ITV1 soap builds up to
its 40th anniversary celebrations in October
, which will include
an ambitious live episode
.
Digital Spy
recently caught up with
Emmerdale
's series producer
Stuart Blackburn
for an in-depth and exclusive chat about recent storylines and what's to come. Read on to find out what he had to say!
There have been lots of big storylines on Emmerdale in the past year. Are there any particular plots or moments that you're most proud of?
"I'm not trying to dodge a bullet at all when I say that there's genuinely no single particular story. Instead, it's how we've managed to play out such a range - from the more hard-hitting stories like the assisted suicide and Lisa's rape, to the real soap drama of 'Who attacked Cain?' and love triangles.
"That's what I've found most gratifying - the fact that we can tell such a wide variety of storylines, and yet it all feels seamless and real. It's the balance and the mix that I take most pride in."
Emmerdale had one of its best years at the British Soap Awards, so that must have been a real highlight for the team.
"Yes, I was absolutely delighted - and not just for the cast, because it filters through the whole show. On the occasions when we're not winning things, the whole team considers what more we need to do. Everyone works their socks off day and night - on weekdays and weekends - so getting those awards was so important for everyone here.
"The morale here as we head towards the 40th anniversary has just been lifted. I think often people say, 'Oh, it doesn't matter if we win awards, we don't mind and we just carry on'. But actually it does matter, so we were really thrilled."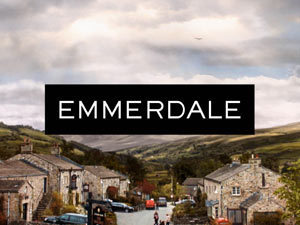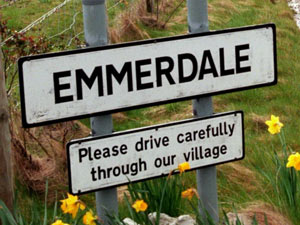 Can you give us any gossip on what fans can expect from the 40th anniversary?
"I hope that the whole week - and not just the live episode itself - is going to be a celebration of great soap storylines. We've got births, we've got weddings and more big, big stories.
"Rather than rounding things off or ending them, pretty much every story that is told in that anniversary week is going to be part of a bigger story that takes us into 2013. We're going to see some really bold, exciting stuff."
Ahead of Corrie's anniversary, fans knew to expect a tram crash quite far in advance. Are you planning any big announcements of your own, or will you be keeping things a bit more secretive?
"Well, what I can say - and I've been saying it for about a year - is that we're not going down the line of stunts for the anniversary. However, there will be two or three momentous things that we're going to try to keep under our hats. I think the biggest gift we can give our audience is surprise. We want people to say, 'Wow - did I just see that? Has that really happened?'
"So we really hope everyone will play along with us. Spoilers can often help to build up excitement, but in this case, it would be great if we could have two or three surprises that the audience didn't see coming at all. But the main point for me is not just to celebrate 40 years, but to kick ahead into next year and beyond."
There's been lots of discussion about the Maceys' music festival. Will this be part of the anniversary week, or is it a red herring?
"It's not a red herring - it's there or thereabouts. Certainly the consequences of it will start hitting home in that week. I can't say much more than that, but it's a music festival that has serious consequences for all the players."
When it comes to the live episode, your studios and village are miles apart. How is this difficulty being addressed?
"By going for it hell for leather! The entire live episode is going to be shot on-location at the village. It's not a stunt, but I don't think that's ever been done before - a live episode entirely on location. As you can imagine, on an October evening high on the Yorkshire moors, it's going to present us with one or two challenges!"
Will there be a sense of nostalgia for the anniversary, or is it more about the current storylines? Would you rule out returnees?
"I absolutely would not rule out returnees - not at all. Having said that, I don't want a nostalgic feel to the anniversary - for me, it's very much about the here and now. The most important time for
Emmerdale
is always 'next week and the week after', so the episodes will be a celebration of all that the show is right now, and very much about looking forward, too."
Some of the fans have recently been wondering whether the 'Emmerdale 24/7' digital initiative has been dropped. Is that the case, or will it continue?
"We want it to continue in some form or another. So far it's been great - the Facebook pages that we've got have really engaged the audience and we've got good numbers looking at those. Following Aaron after he left for France was a great example of the sort of stuff that we can do.
"Nobody doubts the success that we've had so far, but at the moment it's a case of trying to make it commercially viable and pay for itself. It's not confirmed yet, but we're hopefully going to carry on in our own small way doing as much as we can, with a strong online presence and interesting plans for the 40th anniversary. The project is not dead and buried, but we're going to pause for reflection and find different ways of moving on."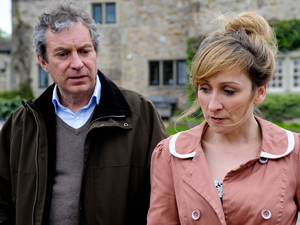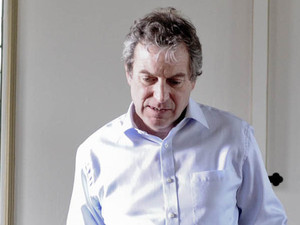 Ashley's story has been a big talking point recently, and we've noticed many viewers are starting to feel sorry for him. Would you say this is a redemption story for Ashley?
"The reaction is remarkable and really pleasing. When you go back to the beginning of this story, here's a man who for weeks and months psychologically bullied his father, before actually physically lashing out at a fairly defenceless old man. And yet here we are now - rightly, I think - having a degree of sympathy for him.
"I'm pleased that there is now sympathy for Ashley and there's now a big, long-term journey for him. He's very much going to remain at the heart of the show and hopefully he's a character who will slowly find his own redemption and the forgiveness of those around him."
Would you rule out a reunion for Ashley and Laurel, or is the story leaning more towards Laurel and Marlon?
"There's a long, long way to go for all three of them. Obviously Laurel and Ashley are in a very difficult place at the moment. All I'll say is that Laurel did go back to Ashley for the right reasons, but at the same time, she did love Marlon. I also don't think Marlon has stopped loving Laurel…"
Zak has also had very troubled times. In the long-term, is there any hope of happiness for him and the rest of the Dingles?
"Absolutely. The story of depression - both from Zak's point of view and Lisa's - is one that's really close to my heart in terms of my own experiences. One vital thing to come out of this story is that there absolutely is hope, both for the person suffering from mental illness and for those around them.
"It'll take time for things to change, but we're already seeing stories now that lead up to and around the anniversary week, where those old wounds are starting to heal and Zak is becoming himself again."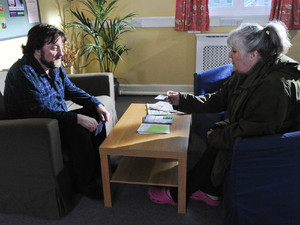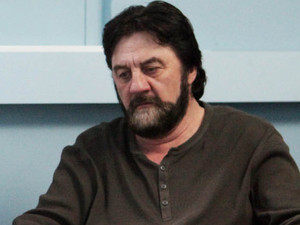 With darker storylines like Ashley and Zak's playing out, some fans have said that they'd like to see more light relief in the show. What are your thoughts?
"It's interesting, because I think what sometimes happens is that the big, darker storylines take all of the headlines and are the ones that people most remember. But going back to the assisted suicide storyline, the episode prior to that saw a kids' party at the Dingle house which was one of the funniest episodes that I've seen.
"Along the way, we've seen comic moments from David, Nikhil, Gennie, Alicia, Paddy, Marlon and Val, so there has been a lot of lightness of touch - it just perhaps hasn't had the same exposure.
"Having said that, there's absolutely going to be more light and funny stories on the way. There are three or four in particular that I'm really looking forward to, because they are important and I think we are a show that is designed to entertain."
With Moira and Adam as the only Bartons left in the village, what's coming up next for them?
"There's going to be lots more story for Moira on the way as she slowly gets over the loss of John. Moira, Alex, Andy and Adam are also really going to make a go of the farm. Looking to the future, it's perhaps time for Moira as a single woman to get her mojo back…"
Would you ever expand the Bartons by bringing in someone new?
"Well, Nana Barton has often been spoken about and I don't see any reason why she shouldn't join the show at some point in the future. We've talked about her a lot, so it's now just a case of finding the right time and finding the right story. So Nana Barton is certainly up there in the mix!"
Is it true that Rachel's decision to sleep with Jai kicks off a big story for her?
"Yes. I love the character of Rachel. Let's just say that sleeping with Jai is probably not the wisest move, and she knows that! It's going to have massive, long-term consequences for both of them."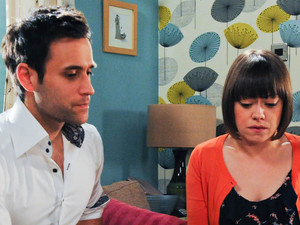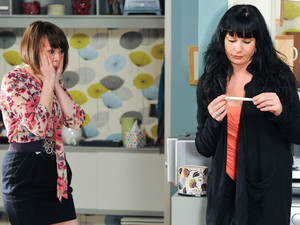 Gennie and Nikhil's relationship has been a big success story. Are you committed to them as a couple?
"Absolutely - 100%. Yes, there will be rows, break-ups and getting back together along the way, but they're genuinely one of the most unique couples that we've got. I adore them and there is obviously a big, big story coming up for them now."
Fans have often speculated about a possible eating disorder story for Nikhil, given all the references to his diet and exercise. Is this on the cards?
"Short to mid-term, there are no plans. But I think that obsession with health and hygiene is always there and always part of Nikhil's personality - it'll inform his relationship with Gennie and their unborn child. So there are no plans at the moment, but it may be that sometime in the future we'll start to look at that in more detail."
What's coming up for Debbie, Andy and the saviour sibling storyline?
"There are a lot more twists and turns. I don't think it's any big secret that the saviour sibling is due to be born during the anniversary week, and so it will come to pass. For all those characters, much more is going to be thrown at them."
Would you say Val, Eric and Brenda is an ongoing love triangle? Or has Eric already made his final choice by picking Brenda?
"He absolutely hasn't made his final choice - there's much more to come as Val won't give up that easily. In fact, I don't think Val's going to give him a choice, really!"
There's been rumours that the Kings - and Carl in particular - could be prominent around the time of the anniversary. Is that the case?
"Yes, Jimmy, Carl, Edna and Nicola will all be up there in the mix. I think we're really going to test that relationship between Carl and Jimmy. We'll actually put it to the test big-style - it's going to be massive…"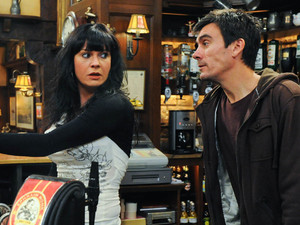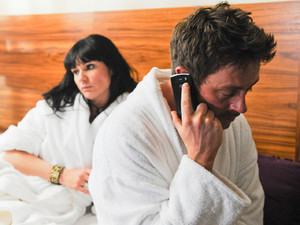 The show now seems to be exploring the consequences of characters' actions more fully, as we've seen with Ashley. Will there also be big consequences for Chas when her affair is exposed?
"Definitely. Chas, Debbie and Cameron will all have big roles to play in the live episode and the anniversary week.
"Deep down, I think Chas has known from the word go that people would find out about the affair at some point. She's not a stupid woman, so she also knows that the effects are going to be devastating. They'll change her relationships with her friends and her family for a long time - if not forever…"
The build-up to Alicia's exit is a big story at the moment. Is there any chance David could reciprocate Alicia's feelings for him?
"At the moment, no - it's just utterly heartbreaking. It is a love story, but a very one-sided one. What David will do is completely step up to the mark to support Alicia and Jacob. But at this point, I think we're looking at heartbreak for Alicia…"
The fans still seem passionate about the older cast members getting more screen time. Sandy has had one of the biggest stories this year, but will we see more of the others too?
"Absolutely. I love those characters, and there's big stuff coming up for Paddy, Marlon and Rhona which Pearl will be at the centre of. As we head through late summer, autumn and into winter, there's going to be some stuff linked to the Kings' story for Edna as well. You'll also see material for Alan, as there's going to be changes to his life and living arrangements - quite unexpected ones, I think!
"We're blessed with a really strong older cast, and Freddie Jones has been amazing in the past few months. I do want to use all of those characters more, and I think we've now got stories that will work."
Would you consider bringing in more older characters, so the existing ones have more people to interact with?
"Yes, but the danger when you bring in a new character is that person is the one who gets the story, when we'd actually love to have stories for Pearl and Alan instead. So my first point of focus is making sure that the existing cast we've got have great and solid stories. Once we've got that right, perhaps we'll bring someone new into the mix to stir things up."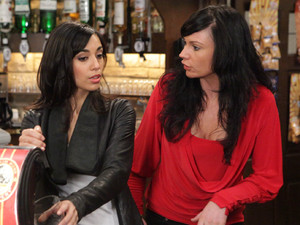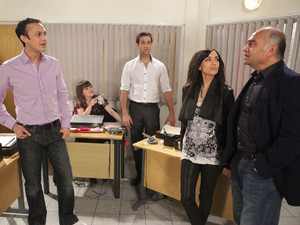 What are the plans for the wider Sharma family - Priya, Rishi and Georgia?
"Priya is definitely staying around and there's going to be romance on the cards for her. That ultimately might be quite a dangerous romance!
"Rishi is sticking around too, and he's got a story coming up with Charity. The two of them will be going side-by-side as Charity decides that it's time to start making her own money and doing what she does best.
"Georgia will be at the birth of Nikhil and Gennie's baby - obviously she'll be straight there! I think Gennie will be delighted to know that she's decided to move in for a little while! (Laughs) I think Georgia will be a returning character, who comes in at key moments, and then maybe in the future she could become permanent. But all of that family will definitely be well used with Rishi and Priya permanently there."
Emma Atkins is often praised by our readers. Does Charity have anything big on the way?
"Charity has got a couple of great stories coming up. She's obviously tied in with Jai and his story with Rachel. But she's also an ambitious woman - she's never intended to be a kept woman. With Rishi at her side helping and funding her plans, she's going to go all-out to get her own business going. If she has to take over someone else's business, then so be it! She'll do whatever it takes."
Will Robbie's story get bigger? Should the viewers trust him?
"Robbie's story will get much bigger. Essentially it's a love story between Robbie and his very reluctant mother, so they've got a long journey to go on.
"But no, I don't think we can trust him! This is a guy who's had a lot of loss in his life - he's a drifter. I don't think he's attracted to the money that Declan has got, he's attracted to the money that his mother has got. I also don't think he trusts the Maceys - he's not a person who gives, as he's very much used to being let down and left alone. He's keen to protect himself, so he's always the first one to throw the stone. Absolutely don't trust him…"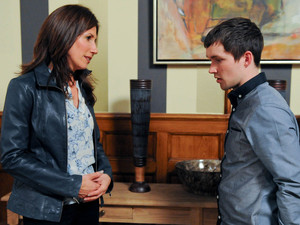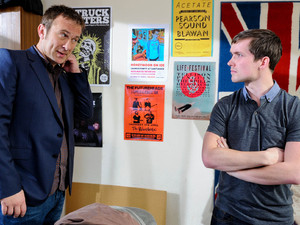 Will the Robbie dramas affect Katie and Declan's relationship?
"It will affect them big style. With the repercussions from the festival and the relationship between Megan and Robbie, we're going to have to see Katie toughen up a great deal. It's very much going to be a divided house with Katie and Declan on one side, and Megan and Robbie on the other! It's classic Home Farm stuff, really.
"Katie and Declan's journey will play out from the anniversary week onwards - and as we head towards Christmas, it's going to get bigger and bigger and bigger!"
Alex Moss has never really had a big story of his own. Could that change?
"It certainly could and it certainly will! Let's just say that I don't think Victoria's going to be very happy with some of the decisions that he's making…"
How will Amy be affected by the arrival of her mother Kerry?
"Kerry's arrival will affect things massively for Amy, Val and Eric. The one thing that Val and Eric have got in common is their desire to do the best for Amy. With her mum returning, it's going to be a massive threat - especially to Val, who sees herself more as Amy's mother than a foster mother.
"I think for Amy, the arrival of her mother is going to bring back masses of bad memories. This is a girl who's been 4 years old, sat on a Saturday night locked in the house on her own while her mum was out on the lash. So Amy's got a very warped view of her mother, and there's a lot of ground to make up.
"One thing I will say is that Amy's mum fought and fought to keep her, but she just got it wrong. So from Kerry's point of view, this is a chance - albeit a slim one - to really make it up to Amy. She's a woman with a heart of gold, but a disastrous and chaotic lifestyle that will have a massive impact on Amy."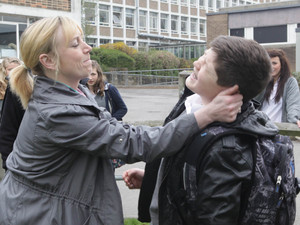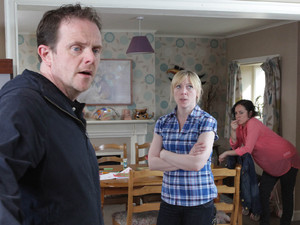 It can be a tricky task introducing a new family to a soap - what are your thoughts on how the Spencers have been received?
"I absolutely adore the Spencers. They're always a difficult family to introduce, because they're almost 'too real' in some people's eyes! Obviously we've given them very strong stories which have forced them into quite antagonistic positions. But we're going to see Ali develop further with the adult literacy, and start to see her vulnerability a little bit more.
"There's also going to be really big story for Dan. Although he's moved on from Ali, he's still a part of the family. I think we'll see a real warm side of Ali, Ruby and the kids as they sprint to protect Dan later on.
"I've got absolute confidence in the family - I think the actors are great and the characters are great. They're really, really believable, so there's lots more story for them. We'll get them integrated even more into village life and operating strongly as a family full of love and care."
Finally, will Paddy and Rhona's wedding be a big story in its own right, or are things heading in a different direction?
"It's only the start! I think it's clear on screen that Paddy's having a little bit of a mid-life crisis, and that's the story we're going to follow. They're going to make some massive decisions to change their lives forever, which will put them firmly up against the Marlon storyline.
"There's going to be big, incredibly funny and moving stuff for Paddy and Rhona. They're another great, funny, powerful and believable couple, so there's big stuff for them."
> Read the latest 'Emmerdale' spoilers and newsEmmerdale airs weeknights on ITV1.