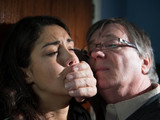 Serial killer Silas's
visit to Texas
in
Hollyoaks
pulled in over 700,000 viewers yesterday (Wednesday, July 18).
E4's dramatic
first look
episode grabbed 706k (3.6%) and 149k (0.7%) on +1, an audience nearly as high as Channel 4's
normal edition
at 6.30pm which had 960k (5.4%) and 111k (0.5%) on timeshift.
The Silas-centred instalment gave E4 its best ratings of the day, and made
Hollyoaks
's first look the fourth most-watched multichannel broadcast of the day.
Coronation Street
predictably topped the soap ratings with 7.53m (36.4%) for ITV at 7.30pm (+1: 245k/1.2%), prior to which 6.21m (31.7%) watched
Emmerdale
at 7pm (+1: 149k/0.7%).
Neighbours
drew 706k (9.6%) at 1.45pm and 919k (6.5%) at 5.30pm, while
Home and Away
took 710k (4.3%) and 493k (2.7%) for 5*'s
first look
.
Meanwhile, BBC One's only serial of the day -
Doctors
- averaged 1.29m (17.6%) for an episode titled
'Now They'll Sleep'
.
BARB ratings data supplied by Attentional