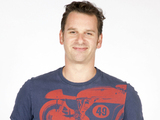 Lucas continues to enjoy being single, but when he sees that his chaotic romantic life has become tabloid fodder, he is forced to reassess his priorities.
Upon being made to feel old by Andrew, Lucas queries whether Vanessa thinks his philandering is pathetic. A non-judgemental Vanessa insists that Lucas should do what makes him happy, and after some soul searching, Lucas chooses to grow up and focus on his impending fatherhood.
Meanwhile, Summer tries to apologise to Tash, who isn't interested until Summer admits that she wanted to get back together with Andrew. Tash insists that she only thinks she's still in love, challenging her to move on from Andrew once and for all. Realising Tash is right, Summer attempts to do just that.
Elsewhere, once again caught in the middle of all his friends' problems, Chris feels like they don't see how affected he is by his break-up. Angered by their selfishness, Chris uses the dating column to make it clear to them that he's hurting too.