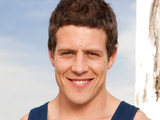 Leah picks up on Brax's strange behaviour as he distances himself from VJ. Soon afterwards, Brax catches VJ drinking with a group of River Boys. Leah is outraged at her son but also at Brax's abandonment. Later, Brax finally comes clean to Leah about the reason for his distance and she's left hurting.
At the same time, Elijah tells Marilyn that he's decided to leave the Bay for a fresh start, and she urges him to reconnect with Leah before he does so.
Meanwhile, a tense Liam explodes at Angelo's, punching Heath for a crack about his unborn child. Brax warns them they can't continue fighting as he needs both of them on deck. Heath sheds light on the conflict for Brax by revealing to him that he's the father of Bianca's baby.
Elsewhere, during Irene and Eddie's lunch date, Eddie offers Liam his condolences for his situation and is eager for him to listen to their studio recording. Liam listens and becomes angry that Eddie apparently stole his lyrics. Liam tells Bianca to fix it, as they continue to fight about everything except the baby.