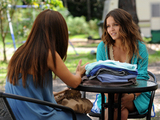 Xavier is worried that his use of the police database will see him booted out of the academy. John asks Emerson to go easy on Xavier, but revealing that Xavier blabbed about the incident only makes the situation worse.
At the same time, Sasha is bemused at how busy Xavier is, suggesting that being caught between Summer Bay and Goulburn is a bit of a double life. Later, Emerson lets Xavier off with a stern warning, much to Xavier's relief. Xavier then drops a bombshell on John - he wants to separate work and his personal life by moving to Goulburn permanently.
Meanwhile, Leah is surprised that Ruby hasn't seen an obstetrician yet and makes her promise that she will. When Leah pushes even harder, Ruby reveals that she lied about the pregnancy. Leah is shocked and implores Ruby to end the emotional blackmail.
Elsewhere, Sid tells Indi that he wishes he'd been there for her more and gives her a cheque to cover her debt with Romeo. Indi later tells Ruby that she's paid her debt to Romeo and agrees to leave them alone. Soon afterwards, Marilyn is delighted to find Indi's missing wedding ring, but Indi decides not to put it back on.
Also today, Roo is apprehensive when it seems that Alf isn't keen on Harvey and Lottie staying permanently. Marilyn suggests Alf's hesitation might have something to do with the fact that Roo and Harvey are all over each other. However, when Roo tries to address this with her father, she realises that Alf is really concerned about her lack of planning ahead.