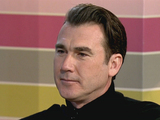 Doctors
newcomer
Ian Kelsey
has admitted that his character Howard Bellamy gets a mixed reception when he joins The Mill.
Show bosses
recently announced Howard as the new practice manager for the fictional health centre
, arriving on screen next week and shaking up life for the existing regulars.
Ex-military man Howard is the replacement for Julia Parsons after fans saw the popular character
bow out from BBC One's daytime soap last week
.
Kelsey told
Digital Spy
of Howard's arrival: "Each different character has a different relationship with Howard, which is brilliant for me as an actor, because it means that I can bounce off people differently.
"A lot of the characters are a bit unsure about him. They don't know whether they like him, whether they don't like him, whether they look up to him, whether they look down on him. There's loads of different angles and routes to go down with Howard."
Howard's brusque manner will prove particularly difficult for some of the doctors as The Mill's new era dawns.
Kelsey said: "He comes in with a stiff rod and he's barking orders, so he's putting his mark on the practice already - just by how he's running it.
"It's a strange old situation, because the partners own the practice and they're hiring somebody like Howard to keep them in check. They're hiring someone to tell them off, basically!"
Doctors
airs Howard's first scenes on Monday, May 28 at 1.45pm on BBC One.
> Read our full interview with 'Doctors' newcomer Ian Kelsey
> Read more 'Doctors' spoilers and news