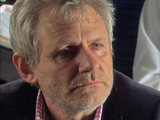 Doctors
bosses have released a new trailer which previews the upcoming return of killer Harrison Kellor.
Harrison, played by
James Larkin
, is back on screens next week - appearing in the daytime soap's regular 1.45pm episodes as well as five BBC Red Button specials.
The newly-released video preview shows Elaine Cassidy's past come back to haunt her as a man named Alex Redmond asks for her help, explaining that he wants answers as his wife disappeared after an affair with Harrison some time ago.
Elaine's efforts to discover the truth on Alex's behalf will lead to her paying a visit to Harrison in prison, but is she making a mistake?
Doctors
kicks off the storyline on Monday (September 17). The Red Button bonus episodes will be available to watch straight after
Doctors
each day, and will also be uploaded on
the show's official website
.