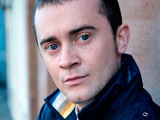 River City
's
Stephen Purdon
has announced that he is to become a father later this year.
The 28-year-old actor, known to Scottish soap viewers as Shellsuit Bob, revealed his joy at discovering his wife Nicola's pregnancy.
"I'm only about 5ft 2ins but I felt about 6ft 2ins when I found out," he told
The Scottish Sun
. "I started walking around the house with a massive swagger!"
Purdon went on: "It's absolutely brilliant news and Nicola and I are both absolutely ecstatic. She's starting to really feel pregnant now. But everything's been great up until now, there's been no sickness.
"We wanted it to happen and we're so happy. I'm still trying to get my head round it. I've been doing the spare room up as a nursery but I'm not good at that kind of stuff!"
Referring to a brain illness he had briefly last year, the star added: "Ever since we got married, everything's been perfect. But before that things were tough, with me being ill. So after Nicola told me about the baby, it was a real contrast to the previous year."
> River City stars 'see ghost on set'
> Read more River City spoilers