EastEnders
landlady Kat Moon is rattled this evening (July 5) as her mystery man bombards her with texts and phone calls.
Last night, viewers saw Kat (
Jessie Wallace
) succumb to the advances of a male admirer, with Derek, Jack, Max, Michael and Ray confirmed as the main suspects in the mystery.
Kat is plagued with guilt in tonight's episode as she realises that she has made a terrible mistake by cheating on Alfie (Shane Richie). However, it's one that she is unable to forget as the guy in question is keen to make this an ongoing fling.
Chatting to the man on the phone, Kat warns him to leave her alone. However, as the texts and calls continue, how long will Kat be able to resist?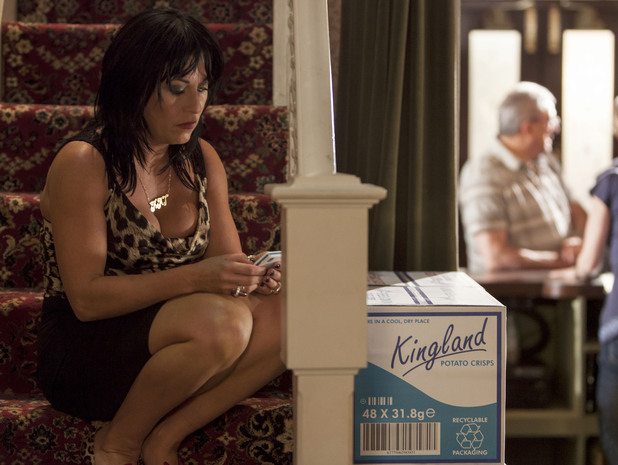 EastEnders
airs tonight at 7.30pm on BBC One.
> 'EastEnders' lines up Kat Moon affair mystery
> 'EastEnders' Kat Moon affair - the suspects
> 'EastEnders': Who will Kat's mystery lover be? - poll
> 'EastEnders' Jessie Wallace: 'Kat affair plot is exciting'
> Read our spoiler for tonight's 'EastEnders' episode
> Read more 'EastEnders' spoilers and news