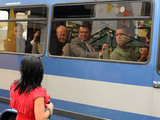 Kat isn't best pleased when Alfie tells her that she can't come to the football team's latest game today, as she needs to keep an eye on Shirley at The Vic. The players all blow kisses to Kat as they leave the pub. Later, Shirley tells Kat that Alfie has phoned about a fight breaking out on the pitch. Kat immediately fears that her affair secret could have been revealed, but when the men return, it turns out that Derek started an argument with the opposing team at the match. The atmosphere is tense between the squad at the pub, especially when Alfie announces that they've been kicked out of the league due to Ray playing for two different teams!
When Derek accuses Ray of playing badly on purpose and Jack gets involved, an enormous brawl breaks out at The Vic - with furniture thrown, glasses smashed and the pub left in disarray. Afterwards, Kat cleans her lover's hand upstairs as he has been hurt in the fight. Considering the man in question to be one of his friends, Alfie thinks nothing of it. Later, Kat returns to the kitchen and finds a bandage on the table with the words "I love you" written in lipstick. Is Kat's affair becoming more than just a fling?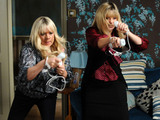 Meanwhile, Sharon and Tanya have decided to let their sons spend some time together, in the hope they will become friends. As Dennis and Oscar play on the games console, Sharon and Tanya go all-out to make sure that their child will win. However, in the end, the youngsters end up playing in the other room - as their mothers have completely taken over the console in a desperate desire to beat the other on the boxing game. Soon afterwards, the tension between the two women reaches boiling point as they furiously exchange insults. Both vow that they don't want their families to have anything more to do with each other!
Elsewhere, Aliyah turns up at the Masood house and thanks Zainab for telling her where AJ was, before dumping bin bags of his clothes. Zainab accuses Aliyah of being cold-hearted considering that she was the one who had an affair. However, Alijah reveals that AJ is lying and this isn't the reason for the divorce. Will Zainab get the truth from AJ?
Also today, Alfie fires Shirley from The Vic under strict instruction from Phil, while Ian tries to rebuild his relationship with Bobby - but Lucy fears that the youngster is being set up for a fall.