Coronation Street
's Eileen Grimshaw will agree to become a carer for Paul Kershaw's wife Lesley in an upcoming storyline twist, a report has claimed.
The factory worker, played by
Sue Cleaver
, steps in to help Paul in the New Year after Lesley's existing carer announces that she won't be able to look after her anymore, according to the
Daily Star
.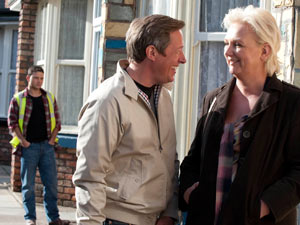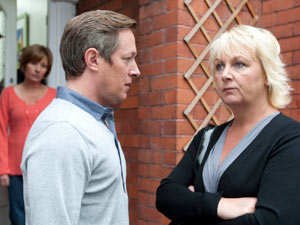 Coronation Street
fans saw Eileen fall for firefighter Paul (Tony Hirst) earlier this year after he led her to believe that he was single. However, Eileen later received a shock when she found out about Lesley, who suffers from dementia.
When Paul is left in the lurch following the departure of Lesley's carer, he fears that he will have to quit his job to look after his wife full-time.
However, Eileen reportedly steps in to help by offering to care for Lesley (Judy Holt) while Paul is at work.
Although she soon realises that the challenge will be tougher than she thought, Eileen vows: "As long as Paul needs the help of his friends, then I'll be there for him."
Coronation Street
's Eileen, Paul and Lesley storyline is expected to run well into 2012.
> Coronation Street star Sue Cleaver expected "nasty" Eileen boyfriend
> Alzheimer's charity praises Corrie plot
> Coronation Street's Tony Hirst: 'Paul is drawn to Eileen'
> Read more Coronation Street spoilers and news
Watch a preview of Friday night's
Coronation Street
double bill in the video below: