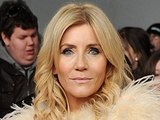 Coronation Street
star
Michelle Collins
has said that giving evidence in a child abuse case was a "complete nightmare".
The actress, who plays landlady Stella Price in the soap, testified as part of a case where
two parents were convicted of torturing their five young children
.
The 51-year-old had initially taken pity on the family in late 2009 and taken the children out on day trips. When she alerted social services that they didn't appear to be attending school, the parents - who were later found to have given their 1-year-old baby a morphine overdose and beaten their older children with brooms, hoovers and wires - told the courts that Collins was planning to "steal" the children, who had been "brainwashed" into making the allegations by police.
As a result, Collins was subjected to a hate mail campaign and internet abuse, which only ended when the pair were eventually sentenced to seven years in jail last Tuesday (August 14).
"It has been a complete nightmare," she told
The People
.
"I came out mentally, completely exhausted by it all thinking please God let this be over, I can't do it anymore. It was horrible.
"I have been an innocent party in all this. I've had awful accusations over the past couple of years.
"For me it's the worst thing in the world for somebody to say I'm trying to take ­someone's children away. But I would still do it all over again if I thought a child was under threat.
"It was the hardest thing I've ever done...[but] a year later those children could have been dead and I would be wishing I had done something."
After the investigation began, Collins heard nothing more about the family until the beginning of last year.
"I was told I was being taken to court by the family because there was a conspiracy between me and the council to take the children away so I could adopt them," she explained. "I was astonished and shocked... but I was then subpoenaed to attend a family court.
"I thought 'I'm a working actress, what am I doing getting involved in this?' It's like the storyline of a soap opera.
"It was very heavy going but you don't want to moan about it because it's a very serious issue."
Collins also revealed that she was not aware of the extent of the abuse until the trial.
"It almost made me cry when I read what the parents did to them," she said. "It's heartbreaking. I just hope the kids are in a much better place now."