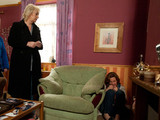 As Paul prepares to move home with Lesley, he checks that it's what Eileen really wants. She affirms that it is - if he won't take advice on what's best for Lesley, she can't see a way through for them. Still refusing to consider care for Lesley, Paul goes to pack.
However, when Paul finds Lesley tearing up their wedding photos as she can't identify herself, he realises that he's losing her and can't cope. Returning home for lunch with Beth, Eileen is shocked to find Lesley crouched alone on the floor with Paul nowhere to be seen. As Lesley clings to her, Eileen's worried…
Meanwhile, as Karl struggles to conceal his rising debts from both Stella and Sunita, Steve discovers that he's been using his old Streetcars badge to do unauthorised jobs. Storming into the pub, Steve wants answers now.
Elsewhere, Kirsty apologises for her recent behaviour when she and Tyrone meet Tommy for a drink, while Marcus is in his element looking after Dylan while Sean's at work - and when Maria and Fiz's childminder is ill, he offers to have their kids too.