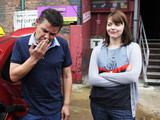 As Tracy makes plans with Steve for Amy's sports day later, she turns it into a row for Lloyd and Eileen's benefit. But at Fare Ladies, Tracy takes the keys to the cars and furtively opens the petrol caps. When the cars fail to start, an annoyed Lloyd calls Tyrone who reveals they've been sabotaged - someone has put something in the fuel tanks.
Lloyd is gutted, revealing to Eileen that the cost of repairs could put him out of business. Unable to hold her tongue any longer, Eileen suggests that he has a mole in his camp. Will Lloyd catch Tracy out?
Meanwhile, when Simon asks if Nick can come to the birthday tea Peter's putting on for him, he's forced to agree. But when Peter hears Nick is also going to Simon's sports day, he resents him muscling in on his territory. This isn't helped when Simon insists Nick take part in the dads' sack race and the two men face off. Who will take victory?
Elsewhere, Anna is chuffed when Roy tells her to finish work early and go to Faye's sports day to surprise her. But when Anna arrives, Faye is nowhere to be seen - where is she?
Also today, Izzy is scared about her pregnancy and visits Doctor Carter to discuss how her condition will affect her ability to carry the child. Will Gary be by her side?