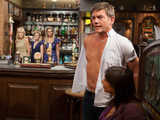 Stella insists that Leanne and Eva join her for a girls' night out, in the hope they'll make up and put their differences behind them. At the same time, Sunita is fed up with being left in charge of the shop while Dev enjoys himself at the golf club. Closing up, she heads to The Rovers for a night out of her own.
With Karl in charge of the pub, Stella is relieved as Leanne and Eva finally agree to bury the hatchet over Nick. Back on the street, Dev is unimpressed to find Sunita in the pub and heads out to reopen the shop.
An unrepentant Sunita stays in the pub until closing time, persuading Karl to let her stay behind for one more drink. As Sunita then attempts to seduce Karl, he struggles to resist her advances. Will Stella, Leanne and Eva return and catch them in a compromising position?
Meanwhile, Michelle is furious to hear that Ryan has been thrown out of university and demands the truth. Ryan admits it happened a couple of months ago after a prank involving fire extinguishers. Michelle moans to Steve about Ryan and how he's throwing his life away. Feeling sorry for Michelle, Steve gives Ryan a job working on the switch at Streetcars. But Lloyd reckons Ryan is a liability and Steve has only done it to impress Michelle.
Elsewhere, Mary asks Roy to accompany her to an Elgar recital. Roy is delighted and they arrive back from the concert elated. As Roy goes to make Mary a cocoa, she watches him lustfully.
Also today, Jason invites Maria out for a drink. They enjoy each other's company and it's clear they fancy each other.