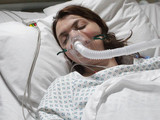 Deirdre and Ken are horrified as Tracy is taken to hospital, where her condition worsens and she is diagnosed with a severe kidney infection.
As Tracy is confronted by the implications of her one remaining kidney failing, Steve appears. Will his words ease her terrifying situation?
Meanwhile, in Malvern, Mary discovers that the hotel rooms she arranged have been double booked. She suggests to Roy that they should sleep in the motor home. Later, as they are about to take their seats for the recital, Roy has a guilty conscience. He tells Mary that he can't spend the night in the motor home with her, and what's more, he really should be there for his wife's big night. Mary stifles her disappointment as they head back to Weatherfield. But will they make it in time to see Hayley and Norris trip the light fantastic?
Elsewhere, blaming himself for the situation Tyrone is in, Kevin buys kebabs and goes to see him. Ignoring his initial hostility, Kevin persists in making him see sense - he can't lose his baby a second time round and must fight for what is his. Will Tyrone take Kevin's advice?
Also, there's an uncomfortable stand off at the Bistro as Stella and Leanne clash with Karl and Sunita, but which pair will be asked to leave?