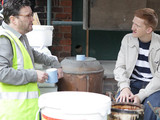 Anna calls a family meeting at Number 6. Owen apologises for ruining the christening, but maintains his stance that Katy is too young to be a surrogate and will be unable to give up the baby when it arrives. However, Gary, Izzy and Katy insist that they've considered everything and are going through with it.
Owen soon clocks Chesney's doubts and later urges him to voice his fears. Chesney feels that he should support Katy's decision, but how will he feel when Owen tells him all the details of the dangers Katy could be facing?
Meanwhile, Karl confesses to Sunita that he was fired and it was Eva's fault. Sunita is left furious and she has a go at Eva in front of Rob, but Eva denies that she was behind Karl's cock up. When Sunita then seeks Karl's assurance that their affair has been worth all the turmoil, Karl hides his ambivalence. Later in the factory, Eva is bragging to the girls about her spat, when Rob calls her into his office. The smile is soon wiped off her face when she hears what he has to say to her…
Elsewhere, Tracy bans Michelle from having any contact with Amy. Steve tells her in no uncertain terms that her little games won't split him and Michelle up.
Also, Tommy tries to help Tyrone get over Kirsty, while tension begins to mount as Kevin's DIY spree really starts to grate on Paul and Eileen.