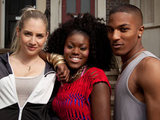 EastEnders: E20
returns tomorrow as series three launches on the online spinoff's official website.
Show bosses have now released a new trailer for the opening episode, showing Mercy's sister Faith (Modupe Adeyeye) preparing to make an impact by making her outfit as revealing as possible.
The preview also shows a dramatic moment as Donnie (Samuell Benta) and Ava's (
Sophie Colquhoun
) minibus crashes just outside of Walford, which is what brings the troubled duo to Albert Square for the new series.
EastEnders: E20
will air online each Tuesday, Thursday and Friday for the next five weeks. A weekly omnibus can also be seen every Friday night at 8.30pm on BBC Three.
> EastEnders unveils new E20 cast members
> EastEnders: E20: Guide to the new characters
> EastEnders: E20: Ricky Norwood introduces the cast
> Read more EastEnders: E20 spoilers and news
> Read more EastEnders spoilers and news
Watch the video preview of tomorrow's
EastEnders: E20
episode below: